Hootsuite, what is it for ?
Hootsuite manages all your social networks on a single dashboard. Content publication and community management are made as easy as possible: Hootsuite enables you to use all your social networks at the same time, without specifically getting connected to them. Once they are in Hootsuite, no need to use the platforms themselves.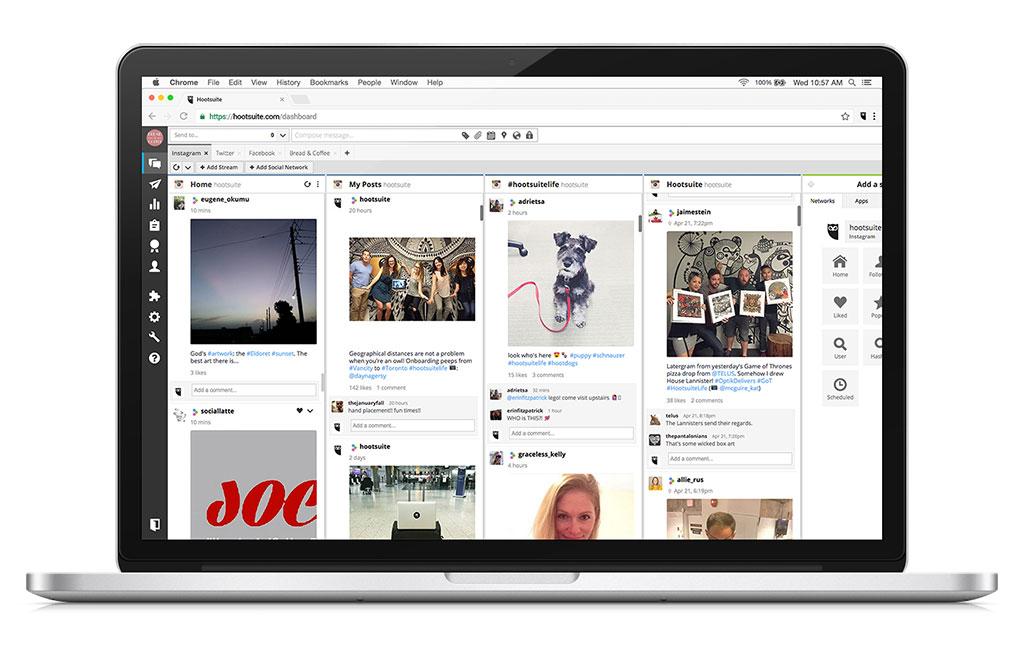 What's its specificity ?
Hootsuite is available on mobile phones (Android and iOS apps) and has several apps to complete its offer. Also, it is very easy to add other services such as Mailchimp, to keep centralizing all your actions in a single dashboard.
What are its functionality ?
Streams are the main element of this tool: each stream is a tab that will match a social network. Each tab will show the posts from this social network, the posts tagging you, what's trending, what are the current trending keywords, your inbox and outbox or your own posts.
Concerning the publication tool itself, its interface is available at any moment on the website and you can answer comments or add a new social network from there.
Scheduling posts is also possible with one big advantage: Hootsuite chooses automatically the best time for you to publish, according to what's been noticed in the stats section; but you still have the possibility to manually define it if you prefer.
Another functionality stands out: « Campaigns » is used to create contests, sweepstakes and galleries in a simple and efficient way.
Hootsuite also has mainstream edition functions to create, edit or schedule new posts, as well as to add them to one or several social networks. We also have a tab dedicated to task management.
Last but not least: stats! This tab allows you to review your campaigns, by live-comparing the information received from Twitter and Facebook. It is also possible to generate automatic reports that will make you better realize your marketing performances.
To sum up
Hoosuite saves you time by gathering up all your social networks in one easy-to-use interface.
Regarding its pricing, Hootsuite offers 4 versions: Professional, Team, Business and  Entreprise, and free trial versions for  the Professional and Team offers. We invite you to visit this page to check out which of the charged versions will better fit YOUR needs, the free one being presented here.
If you want to go further
Check this video made by Hootsuite, that will allow you to check out all the functionality in context and to access other videos focused on different aspects of this tool.
Discover our series of articles on the use of social networks for professionals and the implementation of a social strategy to allow you to adapt your platforms to achieve your goals:
To conclude
We hope this article made you find out new things or helped you clarify some aspects of this tool.
Do not hesitate to give your feedback or share other web tools on our Facebook page !