LinkedIn is the largest professional network available, making it a valuable tool to expand your contact list.
But do not forget that LinkedIn is still a social network so you have to boost it in the same way as Facebook, even if the techniques to do so will be different.
The first difference is the communication level, as Facebook is more positioning itself on B2C while LinkedIn is clearly aiming at B2B.
Here are our 9 tips to make your LinkedIn use more dynamic.
---
1. Create a profile in multiple languages
In a bilingual environment like Canada, it is always valuable to display your profile in the preferred language of your users. LinkedIn offers you this secondary profile option, so people will see your profile in their default language.
You can create as many secondary profiles as there are languages ​​available on LinkedIn.
Just be careful not to forget their existence since profiles' abandonment would be harmful to your brand image. Indeed, pages are not automatically updated, it is up to you to insert the content adapted to the chosen language.
Also, the news thread is still common to all your profiles, you can target them by language.
---
2. Do not neglect your company's textual and visual presentation
Like personal profiles, business profiles should make other people interested in them. LinkedIn suggests fields to be filled, do not ignore them. The more complete your company page is, the more useful it will be for people reading it.
Images are also part of this process as they are used to quickly identify your business. There are 2 main pictures to be inserted to maximize your visual impact: the profile image and the background photo.
On the screenshot below, the profile image is the black-outlined square, while the background photo is the blue part.

The profile image will have a rendering of 120 * 120 px while the background photo size is 1536 * 768 px. You can find all recommendations regarding the dimensions of LinkedIn images here.
We advise you to keep the images already used on your other social networks to visually federate your accounts.
---
3. Do not hesitate to share what you or your team like
LinkedIn being a social network, it is important that you publish on your page to keep it alive.
Share your accomplishments, links to your blog articles, links to articles you found relevant and that might interest your network ...
Keep in mind that content must remain attractive and that it must include visual content. For example, LinkedIn has a Slideshare feature that could help you communicate with your subscribers and highlight your skills in a professional and entertaining format.
LinkedIn has also developed a platform for receiving and sharing news based on the topics you are interested in : LinkedIn Pulse.
Posting through the Pulse platform is not the same as sharing an article from your blog. Pulse requires that you share information directly related to your professional life and your skills. Learn some tips to help you use Pulse well.
You need to show what you are doing and what you can potentially bring to your professional network.
The idea is to make your page lively so that it reflects your company.
---
4. Integrate professional groups and add your favorite ones on your profile
LinkedIn groups are built around a particular area of ​​expertise or common interests. To find them, the simplest way is through typing keywords specific to your field of activity in the search bar.
Once you have joined a group, try participating in discussions to highlight your expertise and stand out of the crowd. Be careful not to fall into excess, which could give you a bad reputation. ;)
In addition, the goal is not to reach as many groups as possible, the goal is to select the groups that you feel are most relevant to you and to participate in them.
You can also display your favorite groups on your page to give another insight of your network and interests.
---
5. Learn to use the directories
Linkedin puts 9 directories at your disposal in its homepage footer.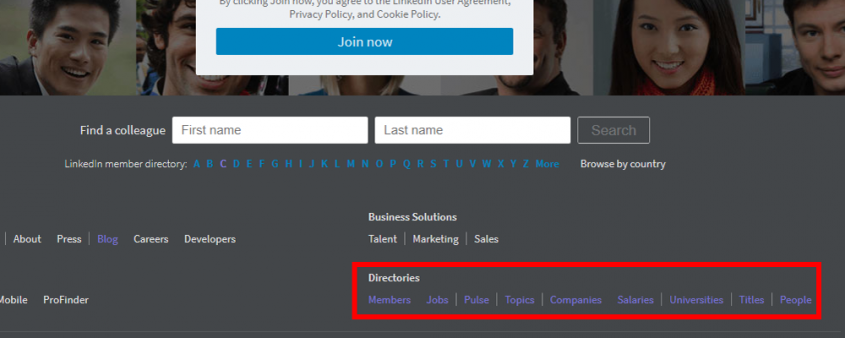 These directories are all assets to refine your searches on LinkedIn:
Browse through them to find unexpected resources.
---
6. Try LinkedIn Ads
LinkedIn's advertising feature allows you to reach targets based on their function, seniority, or company.
This feature is available in three ways:
The sponsored content is native advertising, meaning it naturally fits into the targeted individuals newsfeed.
Sponsored messages are messages sent privately to many individuals, to increase the response rate by being directly in their inbox.
TextAds messages are small text messages placed around the main content of the page. They are kept for the desktop site.
For each of these options, you define your budget and you can pay either per-click or cost-per-impression; an impression being the unit of measurement used to quantify the number of times an item was seen.
Like all paid advertising systems, this tool will allow you to quickly gain visibility; provided you have content that makes users want to take a deeper interest in your services.
---
7. Get familiarized with Lead Gen Forms
This tool allows people interested in your sponsored content to fill in a short form that will allow you to add them to your database. Most of the form will be automatically filled by their LinkedIn profiles and they will receive all your future news.
Be careful, however: this tool is not programmed by default, it is up to you to apply it on your sponsored content, through settings.
Currently reserved for mobile use of LinkedIn, Lead Gen Forms will extend to all platforms by the end of 2017.
---
8. Keep an eye on the Analytics tab
The Analytics tab of your administration panel allows you to track activity on your page.
This tab is divided into 3 sections:
This section allows you to see the number of times your news has been seen and the number of actions and interactions that have occurred. Charts showing the scope and commitment of your news are also available.
This section provides a better understanding of the demographics interested in your company.
This section tells you how many people visited your page and the majority demographics.
Here we find LinkedIn's B2B asset : users tend to share true information when regarding professional opportunities and, consequently, the stats results gain more precision.
---
9. Take the invitation initiative on your personal profile
One of Linkedin's great advantages is how easy it is to link with people. It is very rare that an invitation to connect is denied. If this happens to you, make sure your invitation was relevant and consistent.
Besides, do not wait for others to always take the first step: if you want to develop your network, you have to show up. Nevertheless, avoid inviting all the people suggested to you by LinkedIn, this having little interest if you have nothing to bring them and reciprocally.
The wider your individual network is, the more visibility your company will have. But do not favor quantity over quality. Having 2000 people in your network but only 10 with interesting skills is pointless.
---
In summary
LinkedIn is not just a professional directory, it is a real social network in its own right.
It is essential that you maintain your profile and relationships in order to value them, rather than having an account you do not know what to do with. A good use of LinkedIn will only give people more desire to visit your website and take an interest in what you do.
Keep in mind that LinkedIn is the ideal platform for developing professional opportunities because it has been thought for such exchanges.
Oh please... don't post cat videos... there are plenty of other social spaces for that! ;)
---
Keep up with our series about social networks
Discover our series of articles on this topic that will help you select and tame the social platforms best suited to your objectives : 
---
Ask for our expertise at 8P Design
We can also help you establish your social networking strategy through an audit, which will allow us to analyze your business environment, before creating a detailed plan tailored to your needs.
Do not hesitate to contact us for more information.