Very useful for presenting and selling your products to customers directly on Facebook, Facebook stores are becoming more popular and offer many benefits to their users. Free while remaining complete and easy to use, this possibility gives you, among other things, to boost your sales thanks to the social network known to all.
To start the adventure, you need a page to configure your shop. You also need a product idea (in case you do not have an existing shop) that you would like to sell. Let's see how, and why develop your Facebook store.
---
Why should you sell on Facebook?
Reaching a new larger audience: With an incredible number of daily users, Facebook offers you a wide audience in which you can target prospects. Count more than 6 million users in Quebec and more than 25 million people in Canada have a profile (68% of the population!). Worldwide, Facebook has about 2.41 billion active users each month. To this incredible number of users is added a lowering of borders that allows anyone to be able to contact a person, no matter where it is in the world.
Improve your relationship with your customers: Much more than a social network, Facebook is also an effective means of communication, thanks to the Messenger application. For live communication, you can also configure it by programming a welcome message or automatic replies: Go to your Facebook page to click on "Settings" at the top right and then "Messaging".
Choose and program different types of automatic messagess:
The Answer Assistant: provides automatic responses of up to 250 characters when receiving messages
Planned messages: program an automatic message according to the time
Welcoming message: A message up to 160 characters long when creating a Messenger conversation.
Have access to statistics: Who says Facebook, says statistics and it's the same for Facebook shops. To do this, go to the statistics of your page and then click on the "Shop" tab, you will have access to your sales statistics, the specificities of your customers, the number of views of your products and even the messages received for each product.
Mobile Friendly: Thanks to its mobile application, Facebook also allows you to make purchases from your mobile phone. And that's good because a third of online purchases are via smartphones!
A completely free showcase: Facebook is totally free and will remain so forever!
No need to have an E-commerce site: You can simply create a Facebook shop that allows you to integrate all your articles directly on your Facebook page without having to have a website.
Possibility to link his E-commerce site to his Facebook page: It is still possible to link your E-commerce site to your Facebook page, which offers the ability to automatically transfer and update your products on your Facebook page by modifying them from your E-commerce site, while allowing payments by transfer or on delivery.
---
What are the disadvantages of selling on Facebook ?
Moderation of reviews: Facebook does not allow you to remove negative reviews from your page yourself. However, you can flag those that do not meet community standards or those that do not apply to your company's product/service for a team to study the review.
Payment: As we have seen above, Facebook only allows payment by bank transfer or on delivery. For all other payment methods, you will need to send your client to your site.
Indexing on Search Engines: This point may actually not be a disadvantage if your shop is linked to an E-commerce site. Normally, Google does not take Facebook into account for SEO. Likes and comments will have no effect on your SEO and your shop will not be in the first results of a search. However, if you have a good Facebook store synchronized with an E-commerce site, you could redirect many users to your site, which is a great signal for the algorithm of Google (and other search engines).
Synchronization: In case you don't have tools such as Woocommerce, Bigcommerce or Shopify, it can be difficult to edit products, and you should normally do everything by hand (which takes a long time). If you want to work around this problem, you will need a Freelance developer who can help you to change your products more easily.
---
How to configure my Facebook store?
Configure your store page
Simple and effective, here are the steps to follow to configure your shop page:
Go to your page and configure the shop in the settings
Set up shop details: Include the address and type of business activity, the states in which you do business and your tax number (you can skip these last two points for now, but you will need one moment to another), the type of products you want to sell on Facebook
Indicate information about the type of company and its representative
Then configure the shipping options as well as your return policy and customer service email (a step that is not mandatory, but we can only recommend)
Finally, you just have to accept the conditions of use and your shop is created
Configure payments
The most complicated is behind you, but now you have to configure the payments. The first solution is to link your bank account to directly receive payments on it (for a commission of 2.9% + 0.30 € per transaction):
Go to the Store Management section
Click on Balance and then Link a bank account
Fill in your tax information and your bank details
Click Save
The second solution is to link its E-commerce site to its Facebook store, which we will see in the last part of this article.
Add and manage your products
Your store is ready to use, you now need to add and manage your products.
From a computer, go to the shop tab of your page
Click Add Product
Then define the information of your products:
Add at least a 1024x1024 px white background image of the product (Include multiple images for different colors, for example)
A short and explicit title defining the product
A description that is both short and complete with relevant product information such as dimensions, weight or even warranty.
Add different product options such as available colors or sizes
You can also categorize your product catalog into a collection to provide a clearer view of what you offer to your prospects. Just click on the button Add a collection, to click again on the button + Add a collection. Give it a name and add products to it.
Finally, concerning the management of orders, Facebook requests that items be shipped within three days, and that the customer receives his product within 10 days.
---
How can I optimize the promotion of my Facebook Shop ?
Your shop is now fully usable and must be made known. Here are some tips that you can implement in this regard:
Share products and news on Facebook: Very useful for sharing the latest news from your store while allowing your community to interact with you. Choose images with a size of 1200x630 px representing your products.
Make a Facebook contest: Well known technique to generate a strong commitment, you simply create a standard publication by mentioning that it is a contest. However, avoid using keywords such as "Share", "Mention" or "Like" that will have a negative impact on your reach. Also respect your commitments by selecting a winner from among the participants to keep your credibility.
Facebook Ads: A very effective way to inflate your community, Facebook Ads can help you make yourself known while generating sales. Find out more in our article Well plan your Marketing Campaign.
---
Synchronize your e-commerce with your Facebook store
If you already have an e-commerce store, you could still find an advantage in linking your store to Facebook, thanks to its function to send a prospect to your site, the advertising that Facebook can offer you and at the free window that a Facebook store gives you.
Shopify
To associate Shopify with Facebook:
Click the "+" button from your Shopify administrator interface next to the sales channel header
In "Add a sales channel", click on Facebook
Click on "Add a channel"
Connect the Facebook account to which you want to link your account
Wait until 48 hours for Facebook to review your shop
Woocommerce
To associate Woocommerce with Facebook, you must:
Download the Facebook for Woocommerce extension
Add the extension to your site
Log in to your Facebook account being administrator of the page you want to turn into shop
Choose the page to use as a support for your shop on Facebook
BigCommerce
To associate BigCommerce with Facebook, simply go to "Channel Manager" to select Facebook. Then simply fill in the requested information.
---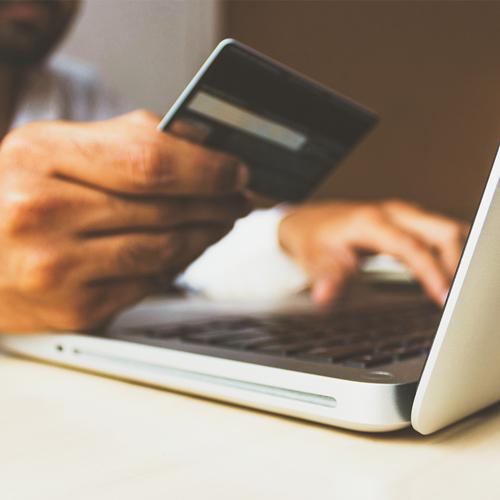 What are you waiting for?
Real hub of online commerce, Facebook today becomes essential for the development of your online business.
You are now able to create and manage your Facebook store. If you want to go further, know that there is also Instagram Shopping that allows to have a store on Instagram.
---
To go further
Discover our e-commerce website creation services to offer your customers an optimal digital experience.