Zoho is a suite of apps aimed at helping businesses in their daily routine. It's a HUGE set of tool that is indispensable, once you've taken the time to learn how to use it.
At 8P Design, we use Zoho CRM to manage our client relation and leads, and Zoho Campaigns to contact them with some news and marketing elements. We'll focus on those two services in this article.
Zoho Campaigns as a newsletter tools with extra powers
Zoho Campaigns allows you to create newsletters campaigns, to schedule posts on social networks, to manage our mailing list or to automate some types of mailing (such as a reply to a newsletter subscription)
Yet, its main functionality is creating and managing newsletters campaigns. A bit like Mailchimp would, but linked to your CRM.
What is so special about Zoho Campaign?
Maily, this tool communicates with so much more! Imagine setting up a link between your Newsletter tool and your client list! You could choose to send an email based on the last time you communicated with a client, or send them something based on the size on their business, change some texte depending on the sales volume... And much more!
All the models suggested are responsive and customizable to fit your campaigns' needs. From a visual or a content point of view. We find the base templates a bit poor, yet, you have full flexibility over the layout once you passed this stage.
Zoho Campaigns also has a report section that enables you to see (among other things), if emails went delivered, open, if there were un-subscriptions, if it created leads to your website… You can also compare your campaigns with one another or bind them with Google Analytics to refine your stats and get an automatic report.
Moreover, Zoho Campaigns allows you to integrate a form on your website to create an emailing list directly in Campaigns, which might be useful if you have a newsletter, for instance.
How does Zoho Campaigns work?
To create a newsletter, you have 4 possibilities:
Using a Zoho model
Importing a HTML model
Coding in HTML
Import a file from a Cloud.
Zoho models are split into 3 sections: basics, design or fully responsive.
How much does Zoho Campaigns cost?
Zoho Campaigns offers three versions: two with fees and one free. Visit this page to check them out and see what are their differences!
---
Zoho CRM... Mmm, What is this ?
Zoho CRM makes it easy to manage both your prospect and your client database.
For instance, Zoho distinguishes accounts from contacts, accounts being businesses while contacts are individuals. One account can be bound to several contacts.
Moreover, Zoho CRM offers you the possibility to automate some actions through macros, to avoid losing time, or to manage your salespeople by giving each of them one or several segments of your database.
In Zoho CRM, everything is made for you to clearly see your opportunities!
What's so specific about Zoho CRM ?
The whole strength here is the interrelation with all the other tools in the Zoho suite.
We love the possibility to customize fields as we want them; And take action on them.
Each contact sheet lets you add comments, emails threads or due date to optimize the follow-up of your customers.
Everything is made to create a logical structure adapted to your methodology in which it is easy to navigate.
How can I use Zoho CRM for my business?
Prospects can be saved as soon as they fill in a form in your website if you use the Zoho API to connect your form to Zoho CRM or embed their forms. They can also be manually created, following a phone call, or imported from a pre-existing database
Once this storing done, Zoho presents you all the collected data to see if you want to start a talk with them or if you prefer deleting them as they cannot be turned into a contact.
Regarding the other functionality offered, four other tabs deserve our attention:
The Home tab is your dashboard and you can modify the interface so that it displays the data that you are interested in.
The Feeds tab allows you to share information with your coworkers, like a newsfeed.
The Deals tab allows you to create a quote and to see the whole ongoing deals and their progress.
The Activities tab allows you to schedule your client follow-up by planning upcoming calls, events or tasks. An email notification can be sent to remind you of all that and their priority level.
You can create custom views.
How much does Zoho CRM cost?
Zoho CRM offers a free version, and 3 business version, check out this comparison page to know more about them.
---
Make the most of Zoho's cross-apps Suite
As we told you at the beginning of this article, Zoho is a set of apps aimed at improving both business productivity and management, that's why we can synchronise Zoho CRM and Zoho Campaigns via the latter.
This synchronisation allows you to create emails campaigns targeted by the data recorded in Zoho CRM and the synchronisation rate is customizable (once a day, a week or a month).
Initiating this process is easy as you see from the image below: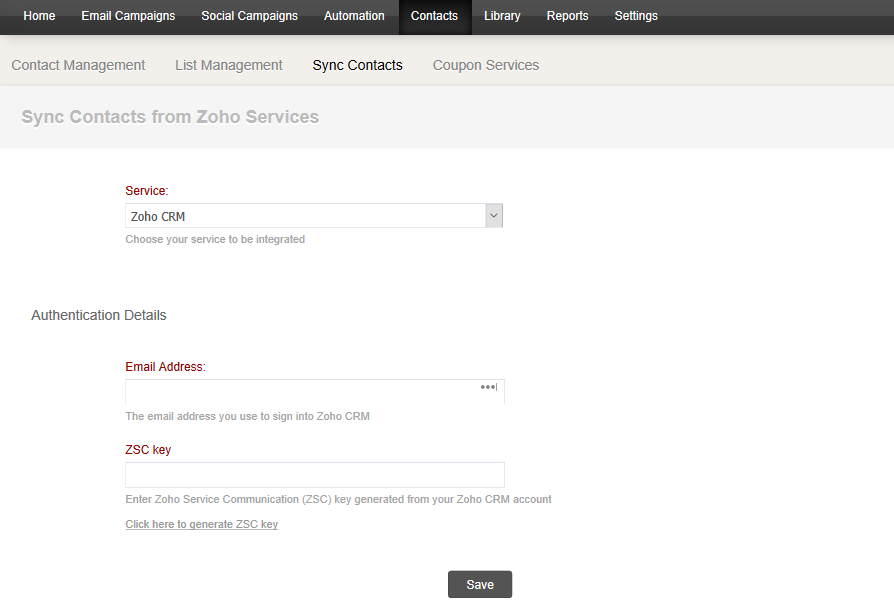 In the Campaigns tab of Zoho CRM, this synchronisation allows you to monitor your campaigns results and potentially schedule times to contact the clients having clicked on the links in the email.
---
Want to lean more...
You will find below a few videos to go further with these tools:
Best practices for Zoho Campaigns
2017 Zoho CRM beginner tutorial introduction
Zoho CRM 2107 Tabs Explained - Beginner Tutorial
Zoho Campaigns: Integrating with Zoho CRM
To conclude
We hope this article made you find out new things or helped you clarify some aspects of this tool.
Do not hesitate to give your feedback or share other web tools on our Facebook page !