Faster, lighter, with a connectivity to the world that always goes further, the mobile phone has become a tool that we always keep at hand and that we rarely forget. It is a technology adapted to our days of interconnection and networking.  
The mobile, an indispensable device
Our daily use of mobile greatly influences our shopping behaviors: As soon as we want or hear about something, we pull out our mobile phones!
Thus, according to a Google study, dating back to August 2015, 51% of mobile phone users have found out about a new business or product through their mobile devices.
This open-mindedness to new opportunities is explained by a response to immediate needs:
50% of mobile searches encourage purchase within 24 hours
78% of these searches lead to a store purchase.
 
We want something and our phone helps us get it wherever we are and whenever we decide. At least, as long as we have access to a website compatible with the device we use.
What is a mobile-friendly website?
A mobile-friendly website allows your user not to have to make a special effort to get what they are looking for. The content of each page is transformed to optimize the user experience. There is no need to zoom in to read the text or be careful not to unintentionally click on things because the design of the page is intended for the fingers.
 
The information is simplified and organized in an optimized way to meet mobile ergonomics while providing the user with all the information they might need.
 
A mobile site can help you differentiate yourself from your competition, or unless it can help prevent yourself from redirecting customers to a site that is optimized for mobile phones.
 
As you can see below, the version that does not fit the mobile does not feel like staying on it, which increases the bounce rate of the site.
Version non-mobile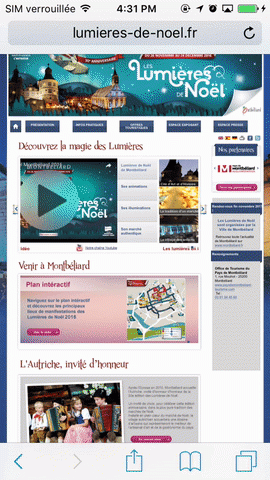 Version mobile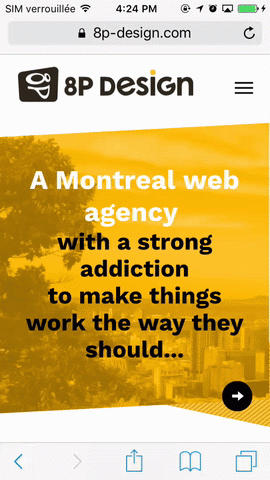 Google and mobile version
Google's influence on the success or failure of our mobile visibility is not to be underestimated: the search engine makes recommendations to enable us to maximize our visibility and does not hesitate to leave aside those ignoring its advice.
 
So, as announced in October 2016 by Gary Illyes, Google will soon split index search results into two independent versions :  one for mobile, the other for desktop computers. This separation is intended to create a frequently updated index for the mobile, while the version will have a less sustained update rate and will be a secondary index.
 
This choice is part of a willingness to adapt to the important place taken by mobile phones in Internet search. The direct implication of this concerns the referencing of websites that do not have a mobile version and which will necessarily be penalized by these new measures.
Note also that this is a logical sequel to the decision to lower the index of sites that cannot accommodate mobile users in a suitable way, that Google had previously made for its desktop index. Therefore, it is IMPERATIVE to consider mobile users.
In summary...
In summary, the mobile phone is a must when it comes to internet search and it will now become unmissable in indexing by becoming the main index of Google. Adapting its website to make it easily reachable to all our visitors is a priority today.
We can help you improve your web presence, and on mobile in particular. Contact us if you have a project to develop or optimize a mobile website. We can also help you measure the impact that the development of the mobile version would have on your conversions and visits through a full SEO audit.
Contact us through this form to have an overview of the mobile performance of your website: