WordPress and Drupal are two of the most widely used content management system (CMS) platforms worldwide.
A content management system or also called (CMS) is a program or software (generally Internet-based) which allows its users to create, manage and edit the content of a website, without having to know the code.
Knowing which CMS platform is right for your business depends on your short and long term goals. In this article we will determine together which CMS to choose between Drupal and WordPress according to your needs.
What are the respective market shares?
WordPress is the most popular CMS on the market today. In fact, he alone owns 62.6%(1) market share and is used by 37.5%(2) of online websites. These are impressive figures. Here are some examples of sites built with WordPress:
The White House
The official White House website, no less than that.

For the record, this site was created in the first place under Drupal then the government chose to use WordPress. The main reason for this change is the cost reduction that WordPress allows.
 

jQuery
The famous javascript library, very popular on the web
 
NationalArchives
The official site of the British archives.
And many others.
Drupal, meanwhile, owns 2.9%(3) market share. This CMS specializes in high traffic sites, and even exceeds WordPress in this area! (4)
Here is a small overview of sites built under Drupal:
Dev.twitter
The twitter site dedicated to developers is a very personalized web portal that addresses multiple functionalities (community aspect, management, showcase site).
 
Tesla
The website of the famous brand of electric cars.
 
Pinterest newsroom
The news, community and updates section of the famous Pinterest social network.
Wordpress, what is it?
By far the most popular CMS in the world, WordPress is an open-source solution that allows you to easily build and manage a website at a low cost. It was born in 2001, written in PHP language and based on a mySQL database.
Here are the 4 promises of the CMS: "Free, Respectful of standards, Ergonomic and Quick to install".
Over time, WordPress has grown in functionality and has seen its market share take off. Today, it largely dominates all of its competitors and remains on an upward slope.
What about Drupal?
Drupal is one of the main competitors of WordPress. Born in 2000, in a dormitory at the University of Antwerp, this CMS is also written in PHP and its code is open-source. It therefore makes it possible to build websites accessible to everyone, even if most of its users categorize it rather as intended for experienced technicians and developers than for beginners.
The main label associated with the Drupal CMS is security, it attaches great importance to it and that is why many sites trust it (notably that of the French government).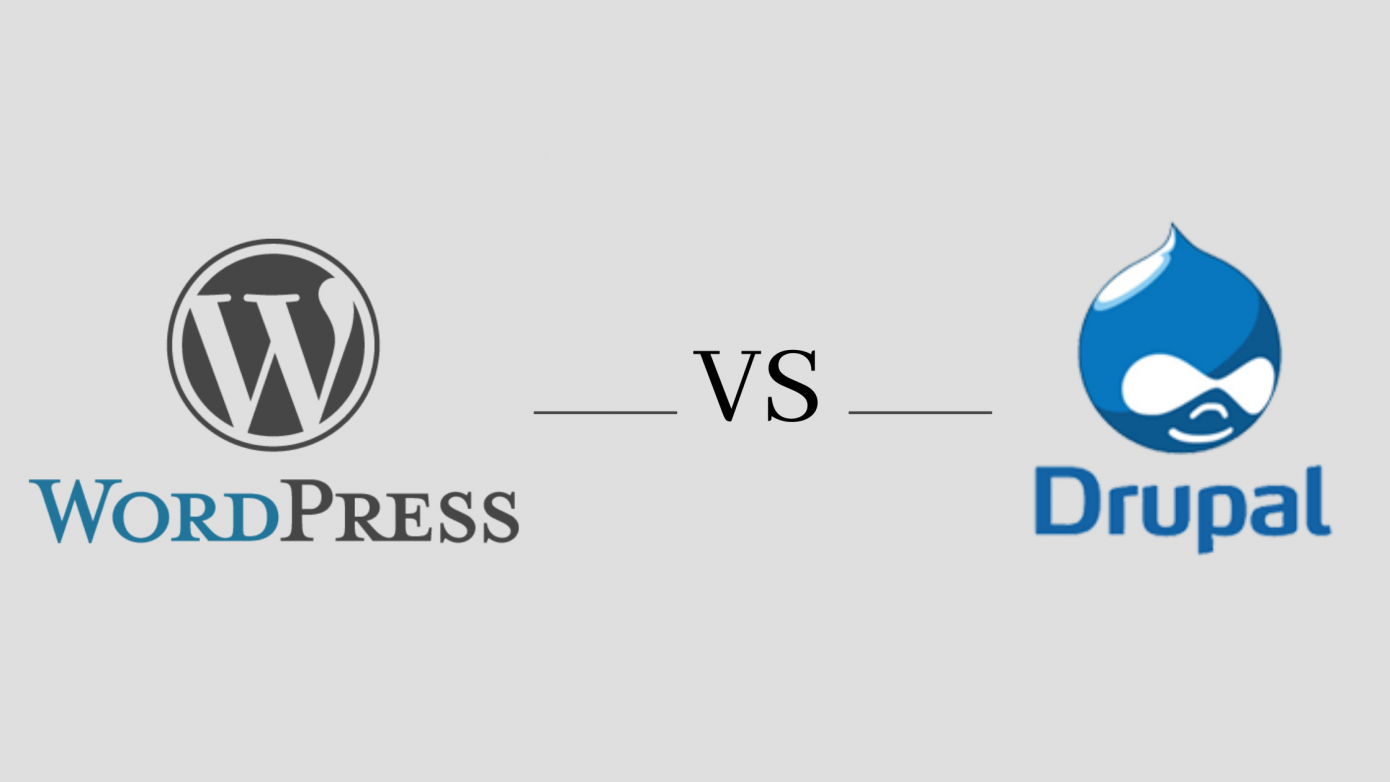 What are the differences between WordPress and Drupal?
Which is faster to install?

To install WordPress, count only a few minutes. It is accessible to all, no matter your level of computer science. You have the choice to do it manually (in less than an hour, via the WordPress site) or sometimes the hosts directly offer to install WordPress, in this case you will have access to the entire CMS in just a few minutes.

On the other hand, concerning Drupal, the maneuver is a little more complex. Indeed, there are several steps to follow, more numerous than with WordPress and they require a slightly higher level of understanding. These are directly informed on the CMS website.

In summary, WordPress is the easiest and quickest CMS to install, but its competitor Drupal makes this operation clear and accessible thanks to its online documentation.
 

Which is more flexible?

The WordPress CMS allows a simple and intuitive configuration of a website. An unqualified person will easily manage to build a responsive and ergonomic site. By default, WordPress is a blogging platform and therefore suitable in the first place for this type of website. On the other hand, with installing some extensions, it is possible to make more technical and personalized sites (online stores, web portal or others).

However, as soon as the site becomes a little more complex and personalized with a lot of functionalities to manage, the famous CMS begins to show its limits.

This time, it is Drupal who wins the deal. More suitable for large-scale sites, it offers multiple possibilities for customization allowing the creation of a unique website adapted to the initial need.

However, for a successful configuration of your website, it is essential to master a minimum of the PHP language and to have knowledge in web development.

It is now up to you: you can choose the ease but be limited by choosing WordPress or go to Drupal and build a really suitable website, but in this case you will need to have a minimum of skills.

Which is easier to use?

From the two points mentioned above, we can see that WordPress offers a simpler installation and configuration than Drupal, the CMS is accessible to people of all levels: beginners as developers. In addition, its dashboard is very intuitive.

However, as soon as you want to add more complexity to its site, Drupal will allow you greater maneuverability and remains however well documented. But if you don't have any technical skills, you may run into a lot of problems.

 

Which CMS has the best security?

Technically speaking, WordPress and Drupal are both designed to be on the cutting edge of security. However, due to the way the websites are built, customized and spanned on each platform, many users will say that Drupal wins the security battle.

However, it is not the WordPress core that is at the heart of the problem. These are the habits and errors of users that are more often seen among WordPress users than among Drupal users, due to the way the platforms work.

The main security problem with WordPress sites stems from the vulnerability that is created when third-party plugins are downloaded. Each time a plugin is downloaded to WordPress, the site becomes vulnerable to hacking. If appropriate security measures are not taken, then any site on any platform can be as vulnerable as the others.

Because Drupal is less dependent on default third-party extensions, it is less vulnerable to security breaches that accompany the downloading of potentially malicious code from unverified third parties. The CMS is very focused on security and also publishes a security update every 3rd Wednesday of the month by communicating on its site possible security breaches that could have reached its users.

In addition, you should know that 90% of CMS attacks directly affect WordPress (we can see this as the reverse of its popularity) against only 3.7% on Drupal.
​​​

And from a natural referencing (SEO) point of view?

These two CMS are naturally optimized for natural referencing. However, it is possible to further increase the impact of the latter, in particular by using SEO extensions.

Available on WordPress, Yoast SEO allows automatic optimization of key SEO points (titles, meta description, redirects, etc.).

For its part, Drupal offers modules dedicated to natural referencing like SEO Cheklist for example which generates a TO-DO list with each key point to check for optimal referencing.
So, do we choose WordPress or Drupal?
You are looking for an initial investment at low cost? → WordPress
WordPress is very affordable and allows customization in the long term. If you're not sure what the future holds, WordPress is a great place to start.
Your are a beginner and your website will be simple and functional? → WordPress
Whatever your expertise in web development, WordPress will generally allow you the fastest creation of a website, provided you do not build anything too complex.
You are looking for a robust and complex solution? → Drupal
If you know that your needs are complex and that your website will require advanced security, it is worth investing in Drupal from the start. Development may take longer, but the uniqueness and security of your website is worth it.
8P develops in WordPress and Drupal,
This article helped you in your choice?
At 8P-Design, we offer to fully develop your website with the CMS that best suits your needs. So we can do some Drupal development or WordPress development. Do not hesitate to contact us for further infos or to ask for an online quote !