Tri Hawk is an international company specializing in the manufacture and distribution of high-end dental burs. Their story began in 1969, when Gustel Fischer decided to offer dentists high-quality adapted dental burs that met their technical needs. In 1986, Trihawk established its first factory and the business has grown steadily ever since!
Tri Hawk's mission is to continue to be the innovative leader in the dental bur industry to ensure they are always providing the best products to their dentist and orthodontist customers.
8P Design's mandate
In order to provide a pleasant and easy-to-use site to their customers, Trihawk entrusted 8P Design with the mandate of redesigning their website in 2017. The creation of this website was therefore defined by the establishment of an ultra-efficient bilingual functional transactional site that met complex technical and commercial requirements.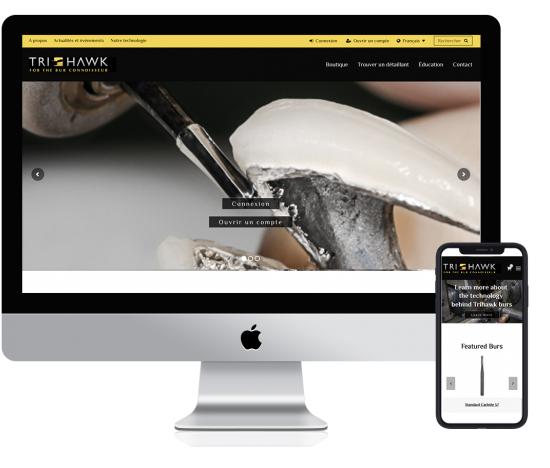 A functional website for innovative dental professionals!
Mandate
Website creation
Multiple price lists by region and customer type
Bilingual French / English website
Organic SEO - Marketing strategies
Follow-up of promotional campaigns related to events and exhibitions
Content structuring and integration
Strategic advice
Technology
WordPress Content Management System (CMS)
E-commerce platform on WooCommerce
Fully responsive custom design
Property management tool