On the occasion of the 7th edition of the Semaine Québécoise de la Paternité, the RV Paternité collective wanted to refresh its website in order to modernize it, make it more dynamic and, above all, put the new theme "Proud Dad", all in record time!
The place of the father in our society is a subject that we find important to value in 8P. We are delighted to have taken this ambitious challenge alongside a dynamic and very friendly team, and especially to have contributed to the success of this beautiful project!
We are very proud of our new partnership with the Semaine Québécoise de la Paternité!
RV Paternité (Regrouping for the Valorisation of Paternity) is a collective that brings together nearly 250 members organizations and individuals from across Quebec. Its mission is to support and promote the increased commitment of Quebec fathers to their children, to promote their importance in the family and society for the development and well-being of children and, equality between parents.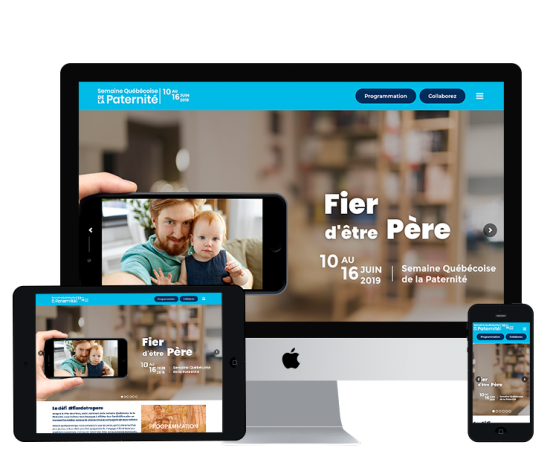 Promote the commitment of Quebec fathers to their families and their children to enable them to be #prouddad !
Mandate
Development of a bilingual website
Regional Search Tool of Initiatives
Registration Form
Order form
Content integration
Organic SEO
Technology
Content Management System (CMS) WordPress
Fully responsive design