Rose Bella is a leading distributor of aesthetic and cosmetic products in Quebec. With this new Web site, retailers and customers can stay updated on Rose Bella news and products, place orders, make payments and manage their account online.
We have also made organic Website SEO to increase visibility on search engines and created a strong advertising campaign on Google. Substantive work on the contents; for quality result and listings on the diverse search engines results. Opening a new warehouse in Quebec and a unanimous acclamation by their retailers for the new available tools and promotion of the products.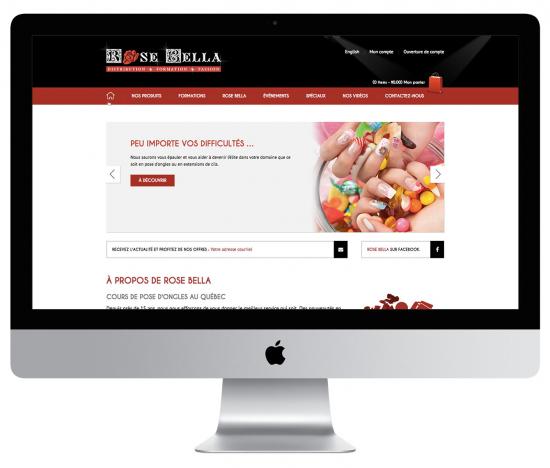 The results are spectacular for Rose Bella and propel their business!
Mandate
Design and development of a bilingual B2B/B2C Web site;
Implementation of a Content Management System using our CSM;
Integration of content and products database;
Newsletter system;
Organic SEO;
Paid listings: implementation of advertising campaigns on Google AdWords.
Professional advice and monitoring for social marketing & networking
Transactional Web site / E-commerce
E-Commerce B2B for professional customers
Online payment using Moneris API
Product Management
Sales team management and sales reports
Integrated retailers management
Automated Emails
Access limited by rights, username and password
Access to the retailer's personal file to update account information
Check and see order history
Technology
Content Management System: CMS 8P-Design
Google AdWords, Moneris API; Facebook
Programming language: PHP / MySQL, XHTML / CSS and JavaScript