Raoul Blouin is a Quebecois family business specialized in residential building management. The company owns 600 apartments units in 12 buildings it built. To keep unspoiled the quality of the original building and the idea of the builder, Raoul Blouin maintains with care all of its property.
The company was founded in 1958 and its long-standing experience in residential building management has allowed its employees to understand the needs of their tenants. Therefore, its credo is that "a rented space should offer all the comfort, safety and warmth of a real home" .
In order to establish its online presence, the Raoul Blouin company tasked 8P Design with creating a bilingual website that would display all the apartments to be rented.
This creation was completed by setting up a search engine optimization (SEO) to help the website have a good ranking on te search engines, as well as creating the corporate image and branding.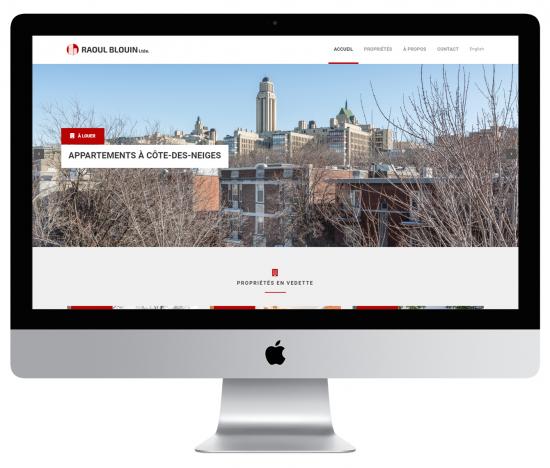 The brand new Raoul Blouin website offers a search tool for properties, a bilingual content and a corporate image adapted to its field of activity !
Mandate
Advice and strategy
Corporate image and branding
Design and development of a bilingual Web site
SEO
Content structure and integration
Search tool for properties
Technology
Content management system (CMS) WordPress
Fully responsive design
Properties management tool