Profaqua is dedicated to teaching young people a passion for science by offering science popularization workshops and animation training for elementary and high school students in Quebec. Talk to your child, he knows and loves Profaqua!
Our mandate was to create a website with an effective portal so that Quebec teachers could prepare their class scientific training plan and invite Profaqua to give workshops. Through a simple portal, the teachers can book the Profaqua team according to their available schedule.
We have developed a tool that simplifies trip management, distance and traffic cost calculations in collaboration with the Google Distance Matrix API. Thus, it is possible for our client to charge teacher accounts according to their location and the traffic encountered at the time of the visit.
A user-friendly website, effective management tools for an extremely dynamic company ...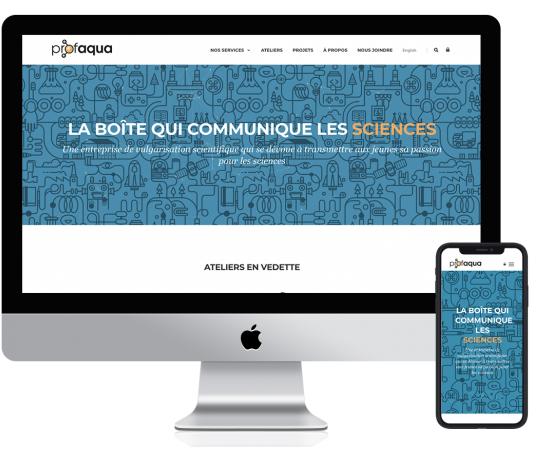 Allow teachers to easily book the Profaqua team for their students. Mission accomplished!
Mandate
Advice and strategy
Corporate image and branding
Design and development of a bilingual Web site
SEO
Content structure and integration
Interactive workshop booking
E Commerce
Custom Management tool
Technology
Content management system (CMS) WordPress
Fully responsive design
Google Distance Matrix API