With more than a billion users at an average age of 26, Instagram is an unmissable. Its goal is to encourage communication through the image. For a business, building a good professional profile on Instagram could be THE solution to gain visibility and notoriety. Here are some figures to convince you:
The engagement rate is 58 times higher on Instagram than on Facebook
An Instagram account helps 80% of users decide to buy a product / service
83% of users discover new products / services on Instagram
80% of users follow at least one brand on Instagram
7 out of 10 hashtags refer to a brand
Here is a short guide to help you build your profile (if you have gaps in understanding the specific vocabulary used, you can refer to the little glossary at the bottom of the page :-))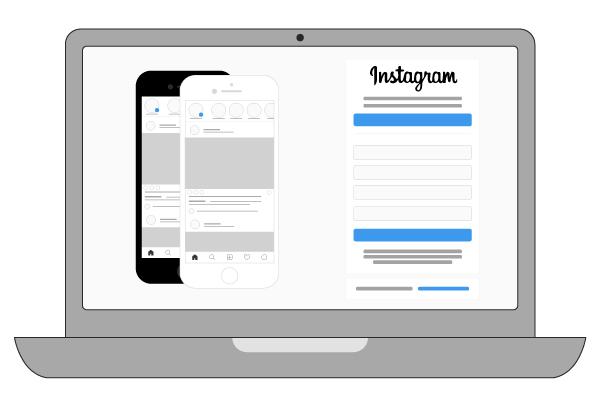 ---
Optimize your professional Instagram account
Create an Instagram account
To be able to have a professional account, one must first start with a simple one. To do this, you can either go to www.instagram.com or download the official application on your smartphone to register and create a personal account.
Then, to move to a professional account, here are the steps to follow:
Appointment in the settings (accessible by pressing the 3 bars located at the top right of your profile)
Choose the category "account"
You just have to click on "switch to professional mode" at the bottom of the screen.
You can then link your Instagram account to your Facebook page (if you wish) and to a category of activity.
Personalize your professional profile
First, think about your profile picture (format: 200x200 pixels) which is essential for your visibility. We advise you to privilege photos with empty spaces in the corners so that it adapts perfectly to the circle intended to accomodate it. The content of your profile picture should also match your placement. Use your logo, or even a picture of yourself if you are an independent contractor.
Then think about your biography! You only have 150 characters to introduce yourself, so use them wisely! Describe who you are and what you do while showing your personality or that of your brand. Feel free to use some emojis where it lends itself (color and fantasy, this is what we like today).
Also insert a link in your bio referring to your website. Indeed, before you can put clickable links on your stories, you will have to reach the 10,000 subscribers. But, fortunately, we can hijack this problem with little tips:
Regularly change the link available in your bio and indicate it to your subscribers in your publications.
Choose your "highlight stories". It has become a standard to have on his profile. They allow you to save stories that you have published one day on your profile and organize them in groups. So you can create some for different purposes:
Present your business
Show a particular product or service
Detail your missions, your activities ...
---
Build a content strategy
The most important thing before starting to post on Instagram is to know what you are looking for, define your needs and objectives (gain visibility, make yourself known, generate conversions on your site ...)
Organize your publications
To quickly grow on Instagram, the important thing is quality and relevance. Post interesting and engaging content, sometimes questioning your community for feedback. Feel free to use filters on your images, because photos with filters are more likely to be seen than those with no filters. You must also think about how often you publish. Nevertheless, it will not be the same depending on what you want to post
Publication on the newsfeed: the ideal frequency for this type of post is one publication per day. These are the ones that will always be visible on your profile. Like on Facebook, Twitter or Linkedin, you need to think about what you want to share.
Publication in story: these are instant photos or videos visible only for 24 hours by your subscribers. You can post several per day depending on what you want to communicate (ex. a presentation of a range of products, sharing a little of your daily life ...) Stories are a good alternative to create the proximity.
If you're short on content to publish, don't be afraid to test to see what pace of publishing works best for you. Also try to analyze the schedule that best suits your target to reap the most commitment.
In order to avoid having to log on at a specific time to publish, you will be able to use planning tools that allow you to program a post, as well as its description:
Hootsuite: Incredibly complete and devilishly effective, it is the most powerful planning tool currently. Its interface is very complete and airy allowing you to plan easily. To learn how to use it, do not hesitate to go see our article on the subject ;-)
Alfred : Also effective, and very useful to see where is its planning thanks to its system of calendar making visible the publications to come on the whole of a month, but sometimes difficult to manage the last updates Instagram, making the experience a little less satisfying.
Creator Studio: All beautiful, brand new, we can now program and publish our publications directly on our computer! It also makes it possible to reply to comments and to follow the analysis of its publications. Its only drawback is its too simplistic interface, making a global vision of planning more difficult.
Building your community
To win subscribers, you must first make yourself known by going to follow accounts (it's give-and-give). Follow profiles and hashtags related to your business to build an Instagram community that may be interested in your products / services. You will then develop a notoriety in your field by spreading your knowledge on the publications of others, while showing your interest for your activity.
Promote your profile
Like many social networks, Instagram has its own advertising tool, "Instagram ad". It is essential for your growth. You have the opportunity to make your business known through the Facebook Insight platform through different types of ads that appear in the form of sponsored publications in the news feeds of your targets, but also between two stories:
Photo ads
Video ads
Carousel ads
Slideshow ads
Story Ads
Thanks to the power of Facebook targeting (don't forget that he owns Instagramnow), and scalable pricing according to your means, you can quickly grow your professional profile.
---
Engagement, the sinews of war
The goal of your publishing strategy is to reap the engagement from your subscribers but also from your future subscribers. For this, there are tips for you to appear in the searches of Instagram users.
Interact with your audience
Like all social networks, the most important part of your strategy is to take time to maintain proximity with your subscribers and targets. Answer and like the comments on your posts, answer the stories that mention you, go comment on publications that reach you or your domain ... This will give instagramers to follow you!
Use Hashtags
Hashtags (#) are what sets Instagram apart from other social networks for a moment (now they all use it), and that's why it's so important to use them in the best way. Think about a list of hashtags related to your business that would be likely to create engagement (for that, you can do word searches in your Instagram search bar, and see the number of posts associated with it to choose the best turn). You can use up to 30, but many studies have indicated that about 12 hashtags get better results.
Try to vary your hashtags, so that Instagram does not penalize you (allowing fewer people to see your posts from the homepage), while avoiding using hashtags "spam" such as # like4like or #followforfollow (which helps increase the amount of subscribers but at the expense of quality).
Contact influencers
One possibility for you to get to know you quickly is to use influencers. These are accounts particularly appreciated and followed by instagram users who can make you use their reputation to develop yours. This is particularly useful for developing a brand and advertising Instagram at a lower cost. There are different types of influencers:
Micro-influencers: 10,000 subscribers and less
Medium-sized influencers: 10,000 to 100,000 subscribers
Influencer tops: more than 1 million subscribers
Privilege micro-influencers to start. You can find it easily in account suggestions and address it in a personal and sincere way.
Make your own promotion
Valid for each social network in your possession, don't hesitate to self-promote on each of them! You can link your Instagram and Facebook accounts, announce your arrival on Instagram on your other social networks ... This will allow you to quickly increase your subscriber base if you already have fans and a presence on the Internet. Also add an icon to your Instagram (in addition to all other social networks) on your website. You can even add an Instagram feed directly to your site so that people can see your latest posts.
---
Analyze your results
The most important for you to improve and especially to see if your strategy works, is to analyze your results! To help you, many analysis tools are available:
Insta Insight: This is the official Instagram tool. It gives you some good figures related to your publications. It's totally free and accessible for every professional account (it's available directly through your account). You also see statistics from the Creator Studio to know your audience better and to see the impact of your posts.
Hootsuite: Leader in the publishing programming market, Hootsuite also allows you to analyze the statistics of its various social networks. Available in French from $29 per month with a 30-day trial.
Iconosquare: Billed from $29 per month (after a 14-day trial version) based on your needs and available in French this tool allows you to both schedule your publications and analyze your statistics.
Hypeauditor: Analyzing the performance of your account and other accounts, including detecting fake followers or finding influencers for you, it is available in French for free thanks to the trial offer (the following plan begins at $30 per month for 1 report).
Union metric: Available in English from $49 per month, this powerful tool allows you to analyze more deeply the activity of your account and the scope of your publications. It has some small tools for free analysis.
Keyhole: The most complete tool of all, it is also the most expensive. Even if they offer a free trial, it then remains available in English from $179 per month (this is the favorite tool of Google or L'oreal)
---
You are ready to start!
Instagram is a powerful tool for implementing your brand on the internet. Requiring a regular, almost daily activity, a well-honed professional profile can make all the difference. Be original in your publications and you should quickly get results!
Need help building your social presence?
8P Design can become your Community Manager! Don't hesitate to contact us to discuss this project :-)
---
The Instagramer's glossary:
Story: A story is your "Story of the day". It contains ephemeral publications (24h) available by your subscribers to share a timely news. The stories are very much watched by Instagramers so they are not to be left to chance.
Highlight Story: After posting several basic stories, you can make them public forever on your profile by organizing them in groups. This is a good way to tell a story in several publications or to present a range of products for example.
Instagram Feed: This is the space where standard publications appear.
Influencer: Influencers are instagramers who have a large number of subscribers and who will make you share their notoriety.
Instagramer: Instagramers are simply Instagram users
Hashtag (#): Hashtags are basically keywords that allow you to be listed outside of your subscriber field. To apply to each of your publications, you must carefully choose them to reach your targets.
---
Follow our series on social networks
To become a social networking expert for your business, discover our series of articles to optimize your use of social networks and build your social presence: